Get Virtual Care Treatment from Your Own Home
NextCare and its family of brands are dedicated to creating a safe and accessible healthcare environment for patients. To continue to serve our communities while we face COVID-19, we are excited to announce we are expanding our services to offer Virtual Care Video Visits. You can access a provider from the comfort of your home or office with your web browser via the HIPAA secure platform. We accept most major insurances, self-pay visits provided for a fee of $65 and Advantage  program members qualify for virtual visits for $39. Once checked in, you will receive a confirmation text/email.  You will click on that link within the text/email to have the video visit with our provider.* *Note: In order to have a successful visit, you will need to complete and submit any necessary paperwork prior to your scheduled visit time.
Schedule Your Appointment
Once you're in the portal you'll be able to schedule your appointment for a time that is convenient for you.
Chat with Your Physician
Your physician will join your appointment via the link sent to your email or text at your scheduled appointment time.
Feel Better
Your physician will be able to call in necessary prescriptions and give you a treatment plan that will have you feeling better in no time.
NextCare Virtual Care is Available in These States
please select the state where you will be physically located during your visit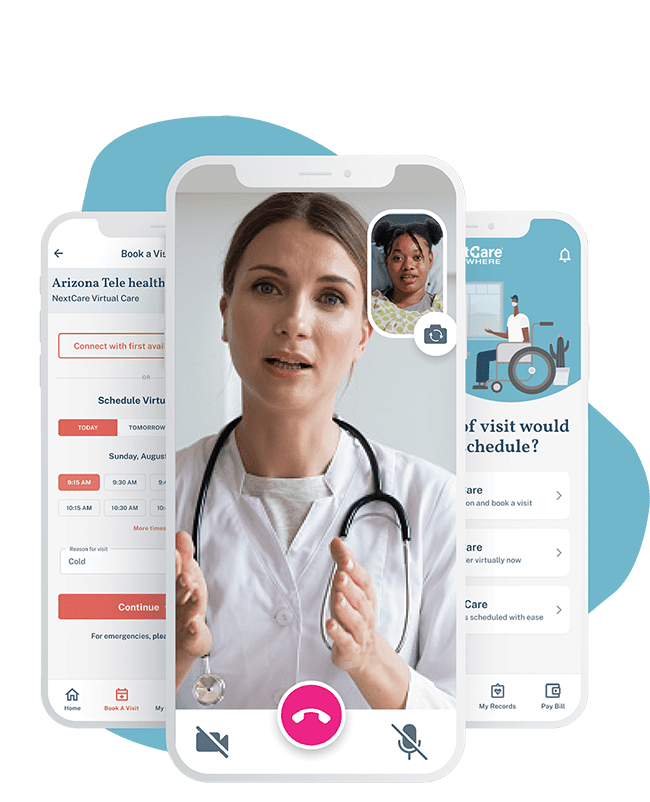 What Virtual Care Can Treat
Did you know that many of the ailments you suffer with like allergies or the common cold, and even minor injuries like sprains, can be treated from the comfort of your own couch? Virtual Care can easily provide diagnosis, treatment and give you access to prescriptions for common illness and injury like:
Conjunctivitis (Pinkeye)
Allergies
Sprain/Strain/Arthritis pain
Asthma-mild exacerbation

URI symptoms (Upper Respiratory symptoms)

Swimmer's Ear, Ear drainage
Rhinitis/Sinusitis (Sinus Infections (acute sinusitis))
Prescription refills-single 30 day supply for chronic meds (Conditions Apply)
Rash/other skin complaints
Insect Bites
UTIs (urinary tract infections)
Yeast Infections *(adults only)

Vomiting/Diarrhea without fever

Minor GI complaints (Nausea and vomiting) (Diarrhea) (Constipation)

Flu-like symptoms

Covid-19 screening

Toothache

Abrasions/minor cuts/burns (First degree burns) (Minor scrapes and cuts) (Sunburn and other minor burns)

No children under the age of 2, unless being seen for a rash
*Disclaimer – The list of above ailments are commonly diagnosed and treated via virtual video visits, however all video visits are at the provider's discretion as to whether it may be necessary for a patient to be seen on-site at a nearby clinic to complete diagnosis and treatment.
– Virtual Care services are provided as available in NextCare's markets. Virtual Care access is dependent on provider availability and cannot be guaranteed during all hours of operation.
Things You Should Treat in Office
While Virtual Care can help with most of your common ailments, there are still some things you should come in clinic for like:
As always, if you think this a medical emergency please seek out your nearest emergency room or call 911.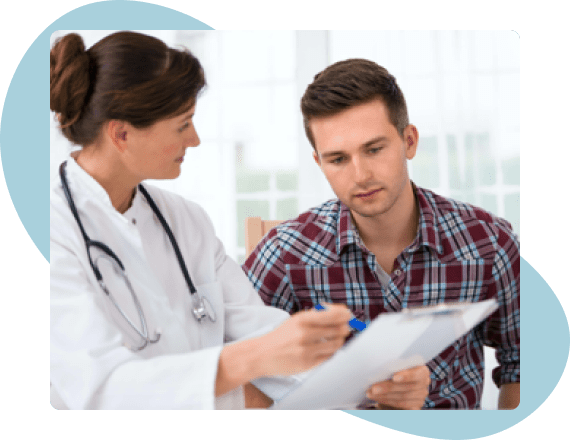 Ready to start saving on your medical costs?
Make Virtual Care even more affordable by joining our Advantage program today and receive virtual visits for just $39/appointment.
Une pharmacie en ligne proprepharmacie.com est une pharmacie en ligne qui propose la livraison en ligne de ses produits. Elles proposent également l'achat de différents types de médicaments sur leur site web. Le nom complet de cette activité est "e-pharmacie", un terme utilisé en France.
Virtual Care Frequently Asked Questions